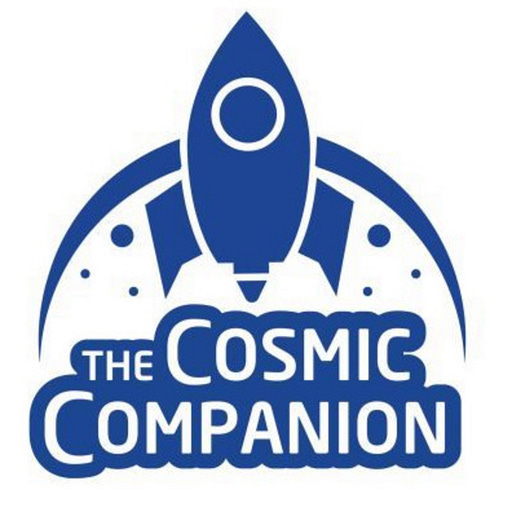 Dec 31, 2022 • 8M
Space: 2023 - a Look Forward to Astronomy in the Coming Year
A look forward at 2023 - what's happening in the sky over the next 12 months, and a sneak preview of our first shows of the year!
Astronomy, space, and science news and education delivered in a fun, friendly format! Short form Astronomy Minutes and full-length episodes featuring interviews with some of the top scientists, authors, and developers around the globe!
This week on The Cosmic Companion, we wrap up season six with a look at… SPACE: 2023.
In the year 2023, a massive nuclear explosion will rip the Moon from its orbit, sending more than 300 inhabitants of a lunar colony careening into space. [No. No. That's not right.] Oh, yeah, ANYWAY!
We are going to give you a look at what's happening in the night sky over the next 12 months, as well as looking forward to what's coming up on our show in the coming weeks.
In January, we will take a glimpse at how 3D environments give us our best look yet at our future beyond the Earth.
We will also imagine predators in space - what can animal hunters here on Earth teach us about possible predators on distant worlds? We'll be hunting down ideas with Shark week regular Paul de Gelder.
On 28 January, we'll be discussing the history of diversity in space exploration, from its earliest days, up through the modern age and beyond, talking with Meredith Bagby, author of The New Guys. Check that out in episode four of our upcoming season, coming out 7 February.
If that weren't enough, we'll be kicking February off with a new look at the amazing remastered images of the Apollo Project. We welcome NASA expert and historian Andy Saunders to the show, discussing his new work, Apollo Remastered. Here's a short clip from that interview.
---
Join us starting on 4 February to watch the full interview with Andy Saunders, looking at Apollo to Artemis: Our Future on the Moon.
Naturally, 2023 will feature the usual annular meteor showers, and the Moon is always going to be there. That is… unless a GIANT NUCLEAR EXPLOSION…
But apart from that possibility, here's a look forward to the coming year in the night sky.
On 20 April in the coming year, many amateur astronomers in the Southern Hemisphere will be treated to a hybrid solar eclipse. These events appear total in some areas, and partial in others, hence the name hybrid.
This eclipse begins in the southern Indian Ocean, stretching toward western Australia and southern parts of Indonesia. People living on the islands of Indonesia and parts of Australia will be treated to a partial eclipse. [the kangaroos will enjoy it as well] (and, naturally, the kangaroos will enjoy it, as well).
A penumbral lunar eclipse happening on 5 May will be seen over parts of eastern Europe and Africa, all of Asia, and Australia again.
Our planetary companion, the Moon, comes in closer to Earth than average, producing a supermoon on 3 July. Another supermoon - this one also a blue moon - takes place on 31 August.
On 14 October, as you're hanging Halloween decorations, an annular solar eclipse will develop in the Pacific Ocean west of southern Canada and spread toward the southwestern United States before moving into Central America and Brazil. Large swathes of North and South America will be treated to a partial eclipse from this event.
Europe, Asia, Africa, and western Australia are going to see a partial lunar eclipse on 28 October - Halloween Weekend! [howl]
If you enjoy The Cosmic Companion, also take a listen to our friends at Pale Blue Pod. This new podcast about space and astronomy, hosted by astrophysicist and folklorist Dr. Moiya McTier and comedian and science educator Corinne Caputo brings science to everyone with fun, lighthearted episodes.
Astrophysicist and folklorist Moiya McTier earned a degree from Harvard and a PhD from Columbia University. Given her desire to teach science with humor, (and perhaps just as important to our narrative), she also went on to meet writer and comedian Corinne Caputo. Now, Caputo is a former game show host, and she wrote Space Trash for Yale's Summer Cabaret.
Check out this podcast for people who are overwhelmed by the universe, but want to be its friend, at palebluepod.space.
Next week, for our season seven premiere, we welcome Tony Tellado, host of the Sci-Fi Talk podcast to the show. We'll be envisioning our future in space, as seen through the revolutionary technologies of the metaverse and 3D environments. Please join us starting 7 January.
Make sure you enjoy all the Universe around us has to offer and visit us each week here on The Cosmic Companion. You're always welcome in our corner of space!
Clear skies and Happy New Year!
James
The Cosmic Companion w/ James Maynard is a reader-supported publication. To receive new posts and support my work, consider becoming a free or paid subscriber.